Jul 27, 2020 09:56 AM Central
Alison Strange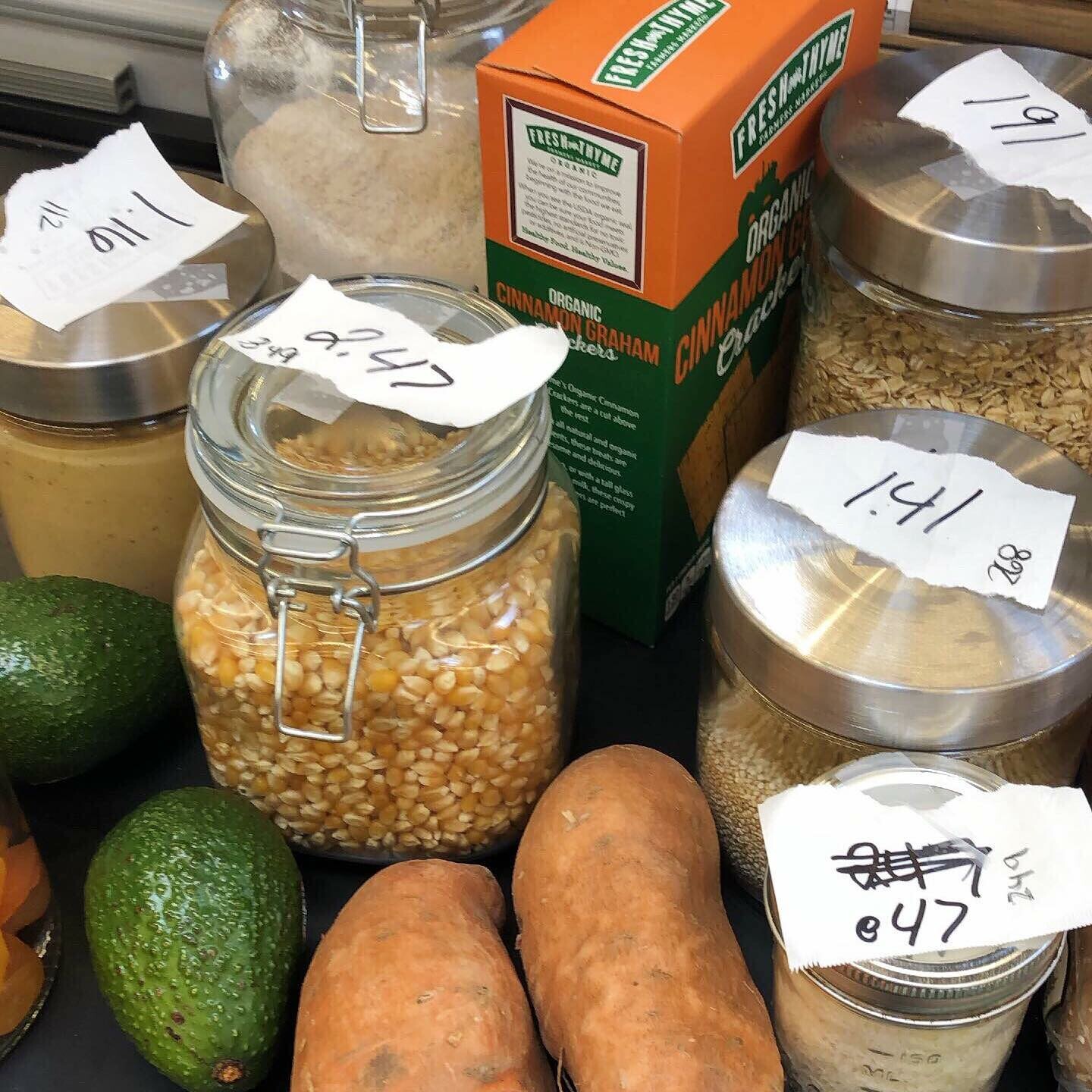 A few months back I shared on Instagram a Zero Waste hack I use to cut down on both waste and chemical exposure. It went over so well, I thought I'd pop in on here and share with you 3 of my favorite zero waste hacks I use to buy & store food items.
Shop Bulk & Bring Your Own Containers
This was the hack I shared that was so well loved. Every other week, I head to our local Fresh Thyme market with a reusable bag full of glass containers, ready to be filled. We purchase the majority of our dry items such as flour, quinoa, oats, and dried fruit from their bulk food section. We've found that it not only saves us money, but it also avoids the excess plastic packaging that would inevitably end up in a landfill. If you haven't considered the chemical burden of plastic packaging on our bodies as well, I encourage you to read this article on xenoestrogens.
So lets recap the benefits of this particular hack:
Saves Money

Less Plastic Waste

Less Chemical Burden on our bodies

Pretty Glass Containers that look Neat & Pretty when I open my Cabinet
While it's slightly inconvenient to bring my own containers and have them weighed prior to filling, the benefits for us far outweigh the minor inconvenience.
Note: These jars are the best Quality/Price balance I've found and they come in multiple sizes.
2) Beeswax Wraps & Pyrex Containers
When it comes to preserving food, we've pretty much ditched plastic wrap and plastic food containers. Like the glass containers for bulk foods, using beeswax wraps and glass containers to store both diminishes plastic waste and excess chemical burden on our bodies.
Referring back to the article mentioned above about xenoestrogens, we stopped microwaving food in plastic containers years ago, so having one container that we can use to both store & heat up food in is an important convenience for me. Also, I am definitely aware that I am talking about reducing toxic chemical exposure from plastic while discussing using a microwave- we're not there yet- Baby steps, friends.
About those Beeswax wraps, I love that these can be used to wrap food or cover a bowl similar to plastic wrap. At room temperature, then are moldable, but quickly freeze "in shape" when exposed to cold upon being placed in the fridge. There is a bit of a learning curve with these so here's what I've learned along the way:
They don't last forever. We use ours often and they need to be replace about every year when the beeswax starts to crack

Wash with cold water as hot water will melt the wax

They should be folded, not crinkled, as circling will cause the wax to crack more quickly

Look for wraps made with organic cotton to ensure they are non-toxic
Here's a pack I recommend! Although, I'd love to try my hand at making my own someday!
3) Cotton Produce Bags
So these are new for me, but I'm excited to use them. For produce with hard skins, I don't usually use a bag at all, I simply plop it right on the conveyor belt, knowing it will be washed and peeled later. For produce I'm not willing to plop on the conveyor belt like Lettuce, I was previously wrapping it in the brown paper towels provided at the store. While it's a better alternative to plastic, I'm excited to use my new reusable cotton produce bags as a Zero Waste option! Not to mention, they pretty cute and will come in handy for half a dozen other things I'm sure!
I purchased the cotton produce bags in the same pack as the beeswax wraps!
Do YOU have any favorite Zero Waste hacks I should try!