Nov 20, 2020 10:33 AM Central
Alison Strange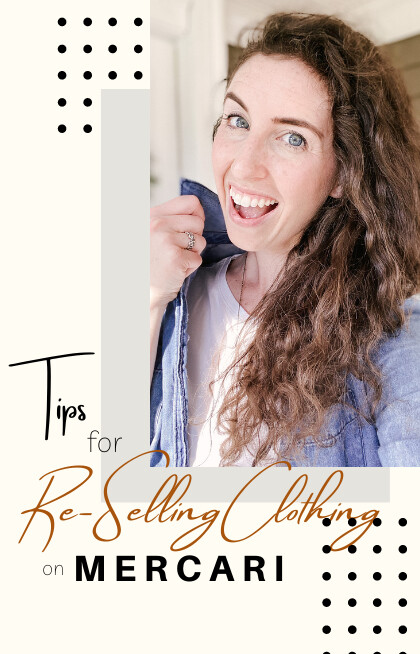 Have you ever gone through your closet and look at the giveaway pile and think, "man, I wish I could re-sell some of this, but I don't even know where to start?" Welp, here I am! Sharing with you a few of the tips and tricks I've used to re-sell over a hundred items of clothing items on Mercari this past year.
**NOTE: This post contains affiliate links. If you make a purchase through one of these links, I receive a portion of the commission. You do not pay anything extra, but it helps support my business. Any affiliate links included are for items I personally own and use myself.

Photos
Photos are Everything. Make sure you show the item on a solid background of a contrasting color (ie. a white top laid out on top of a dark colored sheet, or black pants hanging in front of a white wall).
Also, make sure to take photos in natural light if at all possible. Bonus points for photos of someone wearing the item (sometimes you can find stock photos from the brand website) and flat lays that show other items that you could potentially pair the item with (ie. if you're selling a white top, show photos of just the white top, then include one photo of the white top next to a pair of jeans and boots).
2. Listing
Get Descriptive. Make sure to include all important information like the brand, color, style, size, and material. Give measurements if possible. If you're not savvy with fashion terms, make sure to ask someone (or google) for the correct style terms. You'll get much better results if you are trying to sell a trench coat and use the proper term of "Trench Coat" rather than "Jacket."
USE THOSE TAGS! The tags are there to increase your audience. Use the tags to include terms someone who would like your item might type into the search bar (that are not already in your title). For example, I might post a trenchcoat for sale and use the correct term "trench coat" in the title, but add the term "jacket" as a tag. Or, I may be selling a J.Crew top, and add the term "Gap" as a tag because they are similar style brands and attract similar customers.
3. Shipping
Mercari suggests that items that include Free Shipping are 2x more likely to sell. This means, you cover the shipping as the seller rather than the buyer paying for shipping separately. If you choose to do this, make sure to account for the cost of shipping when you price the item.
I have found the least expensive way to ship clothing items is in a poly mailer. I've been using these ones from Amazon and like how cute and sturdy they are. You can use a website like Pirate Ship to save extra money on shipping. All you need is a small kitchen scale at home to weight the items, and a printer to print the label at home. Shipping an item under 1lb in a poly mailer generally costs me between $3.50-$4.50 per item. Multiple items can be shipped in a small cardboard box for around $8-$9.
4. Pricing it Right
When pricing your item, you want to keep a few things in mind. First, consider how much is the lowest you are willing to take for the item. Then, factor in shipping costs if you are planning to offer "free shipping." Next, factor in Mercari's cut. Mercari takes a portion of the final sale (10% plus a small processing fee).
I also like to add a few dollars for "wiggle room." Mercari gives the option to promote an item by dropping the listing cost 5%. They also give you the option to offer a sale price to people who have previously "liked" your item. If you start by posting your item for the lowest price you are willing to take (factoring in shipping and Mercari fees) you don't give yourself any "wiggle room" to drop the price to promote or to offer a sale.
Pricing Psychology says people are more likely to feel they are getting a deal when the price ends in the number "9" or "7." (ie. $17, $27), when possible, stick to those numbers and avoid numbers ending in "0."
If you haven't tried Mercari yet, but this post has inspired you, you can
click here to use my code
to get a $20 bonus after you make your first $100 selling on Mercari!!