Dec 29, 2021 10:40 AM Central
Alison Strange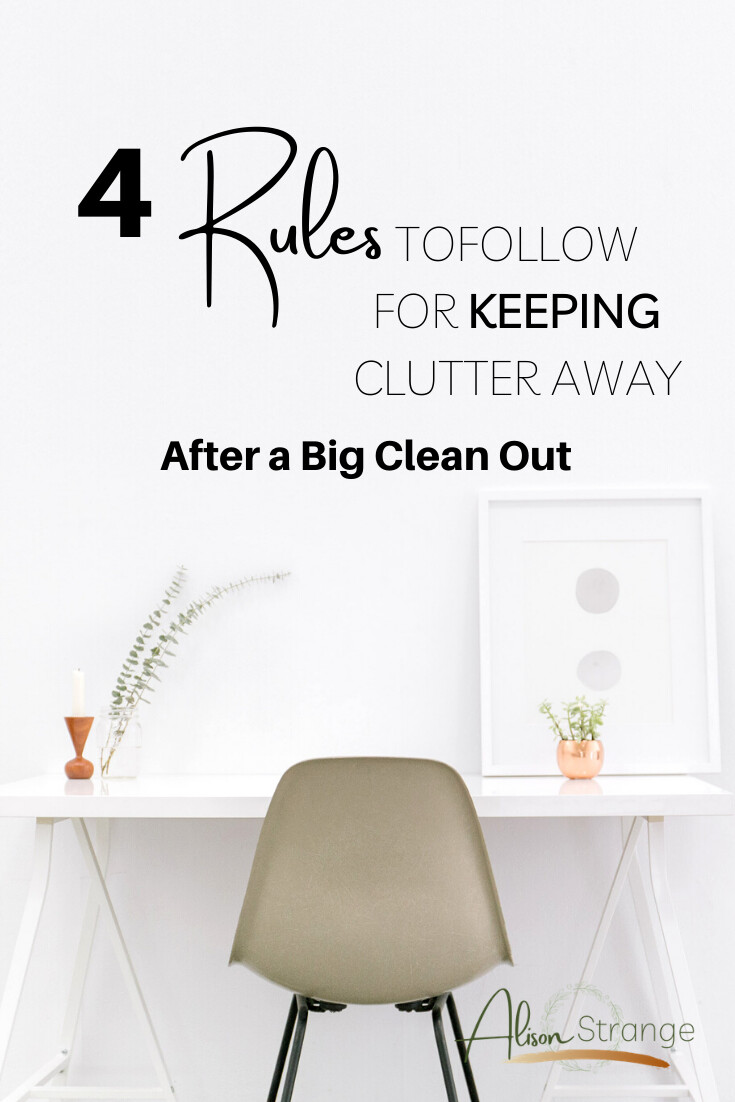 So its 6 months into quarantine and I'm sure we've all done some major decluttering.
Have you sat back and scratched your head thinking "How on Earth could we have accumulated so much stuff since the last big clean out!?"
Our family has moved 4 times in the past 4 years, and I feel like I do this Every. Single. Time.
So, I've come up with a few "Rules" for keeping the clutter from ever making its way into my home in the first place!
Home Decor
Ok, so this one is my kryptonite. I'm a sucker for a cute quote or Wall hanging. So, I've made myself this rule:
If you don't know exactly where it is going to go in your house, Don't leave the store with it.
It's helped keep a lot of Hobby Lobby sale items from ending up in a linen closet with the rest of my "I don't know where I'm gonna put this, but I just have to have it" pile.
2. Clothing
I actually broke this bad habit last year with my 2019 resolution of not buying anything unless it was thrifted or sustainably made (Goodbye random Target finds!)
BUT, I still follow this tip to keep me from falling back into bad habits:
Don't purchase it unless you already own all the necessary pieces to complete the outfit.
Aka: Don't have a top that will match that cute skirt in your hands? Does buying that dress mean you'll have to go on the hunt for the perfect pair of shoes to match? Yes? Then , PUT IT BACK. Unless it's something you NEED (like you started a new job and need to buy a full outfit for your new dresscode), ain't nobody need to be buying pieces you can't wear with clothing you already own.
3. Also Clothing Related
Don't Buy Pieces if You Already Have a Go-To Outfit for That Occassion.
Let me give you an example. Back in the day, my favorite piece to purchase was a cute dressy top to go with my favorite dark wash jeans and sexy heels. Sleeveless of course. It was my go-to Girl's Night Out outfit. I lived in NY. I could only wear it when it was over 50 degrees because I hate being cold. Guess how many opportunities I had to wear those outfits? Maybe 3-4 a YEAR. I probably owned a dozen of these "perfect" tops that I got to rotate through EVERY 3-4 YEARS.
Moral of the Story: Even if it's Super Cute and Fits like a Glove and it's even On SALE. . . if you've already got a go-to piece that fits the bill, don't buy a new one unless you're ready to Replace the old one.
4. Personal Care Products
Any other former Bath & Body Works die hards!? Current B&BW die hards!? Remember the dozens of lotions, body washes, and hand soaps stockpiled under bathroom sink!? Ever have so many you don't know what to do with, that you grab some to wrap up and re-gift in a pinch!? (GUILTY!)
Ok, so let me let you in on a little secret, No one needs that many personal care products.
I know, I know, but what if their bi-annual sale suddenly disappears OR You feel the need to switch scents!?
Lucky for me, I broke this habit when we went non-toxic (Bye-Bye Bi-Annual Sale Temptation!), and when we did so, we adopted a new rule:
Keep No More than 1 "back up" personal care product on hand at a time.
So yes, we keep 1 on hand because you never know when you'll run out, and there may not be time to run out and grab a replacement (or order one if you get a subscription box like we do).
But that's it. No More crazy stockpiles. No more googling "does lotion go bad?" Just one basket under the sink of "backups."
And let me tell ya, it is FREEING.